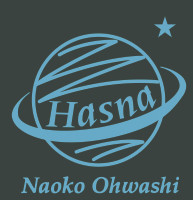 Hasna Naoko Ohwashi
Hasna is the name of a Moroccan friend whom I met on my travels.
I value chance encounters with people and things, and the unspoken wishes they engender. The choice of this name derives from just such a wish.
I want to suggest you things that can't be bought with money.
Something designed in casual style, with using fine materials (bringing people confort), something with warmth, to be loved for a long time, or something which is a well-balanced blend of simplicity and dynamic,...etc.
Every season, I slightly change a creation theme.
Designer Profile
・Naoko Ohwashi was born in Nagoya.
・1992  Worked for an accessory planning company, engaged in design and creation.
・1992  Studied hatmaking in Nagoya, Japan.
・1993  Studied dressmaking at a vocational fashion school.
・1995  Move from Nagoya to Tokyo.
・1995  Started activities as a hat artistom I met on my travels.(Solo exhibitions & group exhibitions arranged by department sotres and specialized stores)
・1997  Finished both regular and advanced courses at the Akio Hirata Hat School.
・1997  First solo exhibition at Sugar Water, Shibuya, Tokyo.
・2000~ Established an atelier, "Hat brand HasnaNaokoOhwashi", and started diverse activities, including designing, creating and selling original HasnaNaokoOhwashi brand hats for men and women at select shops in Japan as well as making hats and headpieces for stage costumes ordered from a thema park, and designing/making other various O.E.M.,O.D.M products.
( Customer UNITED ARROWS womens&mens,TOMORROW LAND,ISETAN Shinjuku etc..,TAKASHIMAYA Shinjuku etc...,MITSUKOSHI Nihonbashi etc...,MATSUYA Ginza,TOBU Ikebukuro,SEIBU Shibuya,Hankyu Ginza,Galleria Dept Korea etc...)O.E.M,O.D.M design(aquagirl,PATRICK COX wannabe,hat maker etc...)
・2006  Solo exhibition at Setagaya gallery, Setagaya, Tokyo " HasnaNaokoOhwashi Hats for pleasure - Naoko Ohwashi".
・2009  Moved from Tokyo to Nagoya.
・2011  Started to sell semi-custom or original hats at my own atelier.
・2012  Started craft workshops for children, Hasna.
・2013  Established a HasnaNaokoOhwashi custom-made shop, "Cuchurier", Meito ward, Nagoya, selling and wholesaling works created by HasnaNaokoOhwashi original hat and custum-made hat.
Engaged in artist activities such as solo-exhibitions at gallerlies while running "Cuchurier".
・2013  Started craft workshops for adult, Hasna.
・2015  Started Hasna Naoko Ohwashi hat school .
・2016  Started gift shop Paraiso~rakuen .
    Design creation of gift goods,exhibiting photographers.
・2020 Opened Yatsugatake atelier in Nagano Prefecture.
Hat
Bag&craft